Zone

Level

Drops

Steal

Spawns

Notes

20-21

1

A, L

A = Aggressive; NA = Non-Aggresive; L = Links; S = Detects by Sight; H = Detects by Sound;
HP = Detects Low HP; M = Detects Magic; Sc = Follows by Scent; T(S) = True-sight; T(H) = True-hearing
JA = Detects job abilities; WS = Detects weaponskills; Z(D) = Asleep in Daytime; Z(N) = Asleep at Nighttime; A(R) = Aggressive to Reive participants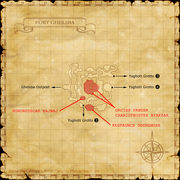 Notes:
Spawns around H-8 on the lower level, approximately every 60-70 minutes.
After this NM is defeated, there is a chance of Chariotbuster Byakzak NM spawning, claimed aggro to whoever defeats this NM. If Chariotbuster Byakzak does not spawn, an Orcish Fighter will spawn instead.
Chariotbuster Byakzak spawns approximately every 21-24 hours.
Around 700HP
Special Attacks: Uses Warmachine special attacks.