Statistics
Furnishing:
A clockwork device able to reproduce
many a memorable melody.
<

STG: 2>
Other Uses
Synthesis Recipes
Synergy
(81-90)

,
Alchemy (61-70)

,
Goldsmithing (31-40)

Yield: Orchestrion x 1
Used in Recipes
Desynthesis Recipes
None
Obtained from Desynthesis
How to Obtain
Special Events
Notes
You need sheet music key items in order to play music on the Orchestrion. They can be won from Starlight Celebration minigames (advanced version) and the Mog Bonanza.
No skill needed to craft with the Starlight Celebration items.
Activated by selecing the Symphonic Curator, located to the left of your door.
Tracks selected will not be remembered upon exiting your Mog House or logging out.
If you also have a Spinet, Nanaa Mihgo Statue, or Nanaa Mihgo Statue II in your Mog House, you can select the music from it as well.

Harpsichord doesn't affect the Orchestrion, because it produces a chime and does not change the BGM.
Available Tracks
Default
Mog House
Vana'diel March
The Kingdom of San d'Oria
Chateau d'Oraguille
Ronfaure
The Republic of Bastok
Metalworks
Gustaberg
The Federation of Windurst
Heavens Tower
Sarutabaruta
The Sacred City of Adoulin
Kazham
The Sanctuary of Zi'Tah
Tu'Lia
Awakening
Belief
A Realm of Emptiness
Forever Today (Instrumental)
Distant Worlds (Instrumental)
Beating Rhapsodies of Vana'diel grants the song from the final closing cutscene!
Rhapsodies of Vana'diel (Full Vocals)
Full Speed Ahead! (shows as #24)
Gallery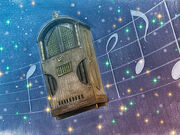 Community content is available under
CC-BY-SA
unless otherwise noted.