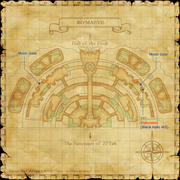 Walkthrough
Talk to Kuroido-Moido (Orastery, E-7) in Port Windurst who will give you the Club of Trials and the Weapon Training Guide.
Use the Club of Trials until the latent effect disappears.
How to remove the latent effect:

You must perform Weapon Skills and Skillchains on monsters that check as Easy Prey or higher.
You can not gain points in Campaign Battles, Besieged, etc.
You get 1 point for performing the weapon skill Starlight regardless of the opponent.
Weapon Skills performed while under Level Sync count.
You receive 1 point for opening/soloing a weapon skill, 2 points for closing a Lv.1 Skillchain, 3 points for closing a Lv.2 Skillchain and 5 points for closing a level 3 Skillchain.
You must accumulate 300 total points.
Once you no longer receive the latent effect bonus, head back to Port Windurst and trade the Club of Trials back to Kuroido-Moido, who will take the weapon from you and give you a Map to the Annals of Truth and tell you to head to Ro'Maeve.
Once in Ro'Maeve go to M-8 and click the ??? to spawn the NM named Eldhrimnir (best camp is at far south end in M-10, just a few mobs to kill for clear path to ???).
Once the NM is dead, re-examine the ??? to obtain the Annals of Truth.
Bring this back to Kuroido-Moido for your reward.
PLEASE NOTE: If you have another Weapon Skill Notorious Monster quest opened and not finished, you will not be able to acquire the Club of Trials. You will need to talk to Kuroido-Moido twice if the mission That Which Curdles Blood is active.
You can cancel an active quest by talking to the quest-giver again and choosing to give up.
You must have your BASE club skill at 230. Merits that add skill levels do not count.
Game Description
Client

Kuroido-Moido (Orastery, Port Windurst)

Summary

The Operations Division of the Orastery has asked you to assist them in their plan to deliver the ministry from misery. Use the magical club that you have been given to record combat information for the Orastery.