These portals serve as entry and exit points for the Feretory. A

Ring of supernal disjunction is required to use the Oyssean Passages.
Entrances to the Feretory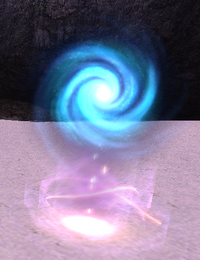 Feretory exit destinations
The map coordinates where a monipulator is teleported after selecting a destination from the Feretory are randomly determined.
Upon entering the selected area, Gestation status is granted, allowing the player to move to the desired location within the zone before becoming vulnerable to attack.
Available destinations depend on the Monipulator's size.
Exit Destinations
Region
Area
Recommended
Level
Small
(No Border)
Medium
(White Border)
Large
(Blue Border)
Ronfaure
West Ronfaure
1
East Ronfaure
1
Ghelsba Outpost
2
Fort Ghelsba
3
Yughott Grotto
8




King Ranperre's Tomb
8




Bostaunieux Oubliette
52




Gustaberg
North Gustaberg
1




South Gustaberg
1




Zeruhn Mines
1




Palborough Mines
2




Dangruf Wadi
3




Sarutabaruta
West Sarutabaruta
1




East Sarutabaruta
1




Giddeus
1




Toraimarai Canal
45




Inner Horutoto Ruins
2




Zulkheim
Valkurm Dunes
15




Konschtat Highlands
8




Gusgen Mines
12




La Theine Plateau
8




Ordelle's Caves
15




Kolshushu
Buburimu Peninsula
15




Tahrongi Canyon
7




Maze of Shakhrami
15




Norvallen
Jugner Forest
15




Batallia Downs
23




The Eldieme Necropolis
40




Davoi
20




Monastic Cavern
42




Derfland
Pashhow Marshlands
15




Rolanberry Fields
24




Crawlers' Nest
40




Beadeaux
20




Aragoneu
Meriphataud Mountains
15




Sauromugue Champaign
25




Garlaige Citadel
40




Castle Oztroja
18




Qufim
Qufim Island
26




Behemoth's Dominion
41




Fauregandi
Beaucedine Glacier
34




Ranguemont Pass
3




Fei'Yin
38




Valdeaunia
Xarcabard
42




Castle Zvahl Baileys
46




Castle Zvahl Keep
46




Uleguerand Range
58




Li'Telor
The Sanctuary of Zi'Tah
25




Kuzotz
Eastern Altepa Desert
30




Western Altepa Desert
40




Tavnazian Archipelago
Lufaise Meadows
31




Misareaux Coast
31




Arrapago Islands
Caedarva Mire
61




Vollbow
Cape Teriggan
62




Valley of Sorrows
66




West Aht Urhgan
Bhaflau Thickets
63




Lumoria
Al'Taieu
68