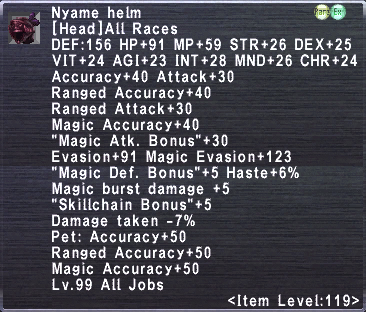 Statistics
Augments
This may be augmented by the Pilgrim Moogle using RP earned from combat with Bumba in Odyssey's Sheol: Gaol. Max rank (25) augments shown:
Path A:
Path B:
Path C:
Path D:
Other Uses
How to Obtain
Cannot be auctioned, traded, bazaared, or delivered.


Cannot be obtained as a random reward from the Gobbie Mystery Box Special Dial and similar sources.
7,500,000 gil (base price)
Derivations
Nyame: Nyame (or Onyamekopon) is the God of the Akan people of Ghana. His name means "he who knows and sees everything" and "omniscient, omnipotent sky god" in the Akan language. (Wikipedia)