Roblox: DeepWoken - The Loop
Play Sound
Job: Warrior
Family: Lizard
Crystal: Fire
Weak to: Wind, Ice

Notorious Monster
Zone

Level

Drops

Steal

Spawns

Notes

60-61

1

A

~7,000 HP


A = Aggressive; NA = Non-Aggresive; L = Links; S = Detects by Sight; H = Detects by Sound;
HP = Detects Low HP; M = Detects Magic; Sc = Follows by Scent; T(S) = True-sight; T(H) = True-hearing
JA = Detects job abilities; WS = Detects weaponskills; Z(D) = Asleep in Daytime; Z(N) = Asleep at Nighttime; A(R) = Aggressive to Reive participants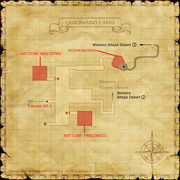 Notes:
Historical Background
Nußknacker (transliterated into English as Nussknacker) is German for Nutcracker, wooden dolls used to crack open the shells of nuts. These wooden dolls were usually designed to resemble soldiers, kings or knights. They would have a large mouth with a lower jaw that could be moved by means of a lever on the doll's back or in its arm. The hard-shelled nut would be placed into the mouth and the lever moved to crack the nutshell. The Nutcracker dolls were originally created in the forested regions of modern-day Germany.

The famous winter ballet The Nutcracker, composed by Pyotr Tchaikovsky and first performed on December 18th, 1892 in St. Petersburg, Russia, features the most well known depiction of a Nutcracker figure. The Nutcracker is based on the 1816 story The Nutcracker and the Mouse King by Prussian author & composer E.T.A. Hoffmann.