New Pokemon Games - The Loop
Play Sound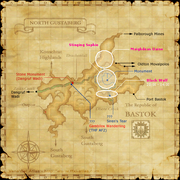 Located at (G-7) in a cave beside Zeikt Creek in North Gustaberg, this monument has words carved into the stone:

As I passed through this area, I heard Bastokers were building a monument honoring the pioneers who dug the Palborough Mines. Being the curious type, I went to visit the site.

The site itself turned out to be an old cemetery, where the tombstones were so old, the names were worn away with age.

It turned out that the graves were those of numerous Galka who died in an accident the day the Metalworks was completed, in a time when Bastok was still struggling to become a nation.

I do not know if the Palborough Pioneers are the heroes people claim they are. I, for a fact, have no doubt the Galka who lie here gave their lives bravely to settle this arid, forsaken land.

I decided to spend a night here, drinking to the unnamed heroes of a forgotten time.

--Gwynham Ironheart, 749 Crystal Era.
See Also