This black and gold set uses cloth at the joints to minimize noise and maximize freedom of movement. It is crafted largely of cotton, linen, and sheep leather, and it offers many desirable bonuses to dexterity, agility, and ranged attributes for three of the jobs which benefit most from ranged bonuses. The high quality version of this set is the Noct Doublet +1 Set.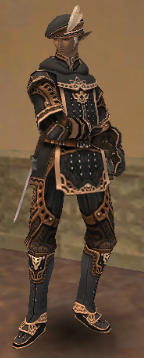 Number of Pieces: 5

Cost to store: 200 gil

Set Summary
Community content is available under
CC-BY-SA
unless otherwise noted.