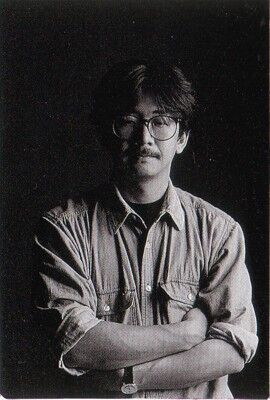 Nobuo Uematsu (植松 伸夫; Uematsu Nobuo, born March 21, 1959) is a Japanese composer of video game music, and one of the most well-known, prolific, and versatile in the field. He has composed music for many games produced by Squaresoft and Square Enix, including the Final Fantasy series of role playing games, and some pieces for Chrono Trigger.
Biography
For a more in-depth biography, consult his Wikipedia page
Born in Kochi City, Kochi prefecture, Japan, Uematsu began to play the piano when he was twelve years old (his greatest role model early in life was Elton John) and is a self-taught musician. After graduating from Kanagawa University, he composed music for commercials before joining Squaresoft (now Square Enix Co., Ltd.) in 1986. He went on to compose music for over thirty game titles, including the award-winning Final Fantasy series. In October 2004, Uematsu formed Smile Please Co., Ltd. and continues to compose for Square Enix along with several other companies. The style of his compositions range from stately classical-like pieces, to New Age, to hyper-percussive techno-electronica, similar in sound to some music by the band Emerson, Lake and Palmer, one of his stated influences. Uematsu is a renowned composer who has been touted as increasing the appreciation and awareness of video game music.
Final Fantasy XI tracks composed
Ronfaure
Prelude
Airship
Recollection
Anxiety
Hopelessness
Sorrow
Sometime, Somewhere
Despair (Memoro de la Ŝtono)
Repression (Memoro de la Ŝtono)
Dash de Chocobo - with Naoshi Mizuta
First Ode: Nocturne of the Gods - with Naoshi Mizuta
Second Ode: Distant Promises - with Naoshi Mizuta
Third Ode: Memoro de la Ŝtono - with Naoshi Mizuta
Distant Worlds - with Naoshi Mizuta and Izumi Masuda (also covered by The Black Mages on their third album)
External links
Community content is available under
CC-BY-SA
unless otherwise noted.