Dead Cells Final DLC - The Loop
Play Sound
Zone
Level
Drops
Steal
Spawns
Notes
Ro'Maeve
72 - 73
2
A, M
~7,000 HP
??? MP
Nyzul Isle

Floors 41 - 59

1
A, M
??? HP
??? MP

A = Aggressive; NA = Non-Aggresive; L = Links; S = Detects by Sight; H = Detects by Sound;
HP = Detects Low HP; M = Detects Magic; Sc = Follows by Scent; T(S) = True-sight; T(H) = True-hearing
JA = Detects job abilities; WS = Detects weaponskills; Z(D) = Asleep in Daytime; Z(N) = Asleep at Nighttime; A(R) = Aggressive to Reive participants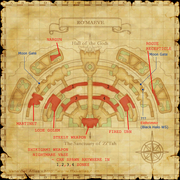 Notes (Ro'Maeve):
Lottery spawn from the Magic Flagons. Can spawn on either side.
Resistant to silence, susceptible to paralyze and Stun (Status Effect).
May drop multiple pot shards and Mercury.
More than one Nightmare Vase can be up at the same time.
Soloable by select jobs at 75. Easily dispatched by a small group of 75s, or a DD/NIN and healer. (see testimonials)
Notes (Nyzul Isle):
The Armoury Crate it leaves behind contains a ??? Dagger, which may rarely appraise into a Shinogi.
Video