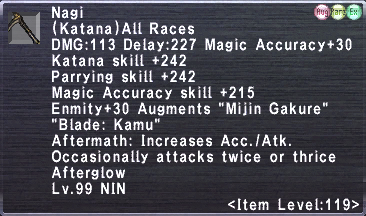 Statistics
Damage Per Second: 29.87
TP Per Hit: 61
Augments "Mijin Gakure"
Applies a Reraise effect to the Ninja.
The Ninja will return to life with 100% HP
Hidden Effect
Other Uses
How to Obtain
Cannot be auctioned, traded, bazaared, or delivered.


Cannot be obtained as a random reward from the Gobbie Mystery Box Special Dial and similar sources.
Oboro's REMA Reforging Service
Oboro will reforge Nagi (99-2) in exchange for that item and 300 chunks of Beitetsu.
Upgraded from Nagi (119) via: