Statistics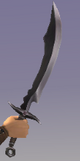 Damage Per Second: 4.58
TP Per Hit: 63

Additional effect: Poison
This effect has been observed by some to activate more frequently than most Additional Effects found on weapons.
Other Uses
Synthesis Recipes
None
Used in Recipes
Desynthesis Recipes
None
Obtained from Desynthesis
How to Obtain
Dropped From
Historical Background
Nadrs (pronounced "Nahz") is a Gothic word, which has its roots in Latin. Specifically, the root is neHtr, which means snake. The English word of the same root is nǣddre or adder, a poisonous snake.
Community content is available under
CC-BY-SA
unless otherwise noted.