| | |
| --- | --- |
| Notorious Monster | |
Zone
Level
Drops
Steal
Spawns

Notes

1

L, T(S), Sc

A = Aggressive; NA = Non-Aggresive; L = Links; S = Detects by Sight; H = Detects by Sound;
HP = Detects Low HP; M = Detects Magic; Sc = Follows by Scent; T(S) = True-sight; T(H) = True-hearing
JA = Detects job abilities; WS = Detects weaponskills; Z(D) = Asleep in Daytime; Z(N) = Asleep at Nighttime; A(R) = Aggressive to Reive participants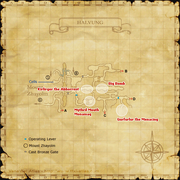 Notes:
Not Aggressive
Spawns around (H-9) on the second map.
At least 12 recommended.
Assisted by two Troll Mythril Guards (warriors).
The Troll Mythril Guards respawn 5 seconds after being killed.
Troll Mythril Guards are fairly weak, but share hate with the NM.
NM has an enormous amount of HP (50,000 or more).
Has very high DEF, normal attacks doing 8-12 damage, aftermath attacks doing 20-25 damage by a Kannagi NIN/DNC with Attack Food.
Friar's Lantern in the surrounding area will be a problem when they respawn.
Defeating her lowers the Troll Mercenaries' military force by 1.