Zone
Level
Drops
Steal
Spawns

Notes

50-52

1

A = Aggressive; NA = Non-Aggresive; L = Links; S = Detects by Sight; H = Detects by Sound;
HP = Detects Low HP; M = Detects Magic; Sc = Follows by Scent; T(S) = True-sight; T(H) = True-hearing
JA = Detects job abilities; WS = Detects weaponskills; Z(D) = Asleep in Daytime; Z(N) = Asleep at Nighttime; A(R) = Aggressive to Reive participants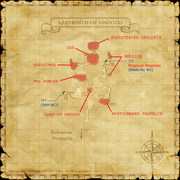 Notes:
Timed Spawn around (I-9) every 2:00 to 2:30 hours with 5 minute windows.
Immune to Stun and Shield Bash, but not Head Butt.
Susceptible, but resistant, to Sleep.
Highly resistant to Silence.
Very difficult to interrupt spell casting.
Other Goblins will link with Mysticmaker Profblix if close enough
Uses Manafont.
Casts the following spells:
Community content is available under
CC-BY-SA
unless otherwise noted.