Job: Red Mage
Family: Colibri
Crystal: Wind
Weak to: Ice,

Notorious Monster
Zone
Level
Drops
Steal
Spawns
Notes
East Ronfaure (S)
50
1
S
~4,444 HP
??? MP

A = Aggressive; NA = Non-Aggresive; L = Links; S = Detects by Sight; H = Detects by Sound;
HP = Detects Low HP; M = Detects Magic; Sc = Follows by Scent; T(S) = True-sight; T(H) = True-hearing
JA = Detects job abilities; WS = Detects weaponskills; Z(D) = Asleep in Daytime; Z(N) = Asleep at Nighttime; A(R) = Aggressive to Reive participants
Notes: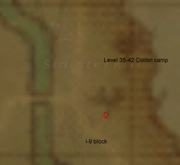 Always spawns in the same general area, the bottom right corner of I-9 near the broken wall or small wooden gate.
Timed spawn every 90-100 minutes (has been observed to never pop past the 100 min mark, similar to Belladonna)
Immune to or heavily resistant to Silence.
Has TP Regain.
Almost always uses Feather Tickle, can occasionally use Pecking Flurry, Never uses Snatch Morsel
(see testimonials)
Hunt Registry:



Community content is available under
CC-BY-SA
unless otherwise noted.