Job: Red Mage
Family: Colibri
Crystal: Wind
Weak to: Ice,

Notorious Monster
Zone
Level
Drops
Steal
Spawns
Notes
East Ronfaure (S)
50
1
S
~4,444 HP
??? MP

A = Aggressive; NA = Non-Aggresive; L = Links; S = Detects by Sight; H = Detects by Sound;
HP = Detects Low HP; M = Detects Magic; Sc = Follows by Scent; T(S) = True-sight; T(H) = True-hearing
JA = Detects job abilities; WS = Detects weaponskills; Z(D) = Asleep in Daytime; Z(N) = Asleep at Nighttime; A(R) = Aggressive to Reive participants
Notes: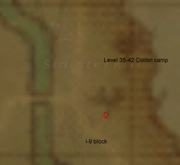 Possible lottery spawn from the Colibri at I-9. Has been observed spawning every half hour whether Colibri were being killed or not.
Always spawns in the same position, the bottom right corner of I-9 by the broken wall.
Capable of mimicking spells.
Immune or highly resistant to Sleep.
Almost always uses Feather Tickle, but can occasionally use Pecking Flurry.
Would have to say it prefers Feather Tickle just soloed it as a 60rng/30nin with little problems and it only did Feather Tickle on me
Community content is available under
CC-BY-SA
unless otherwise noted.