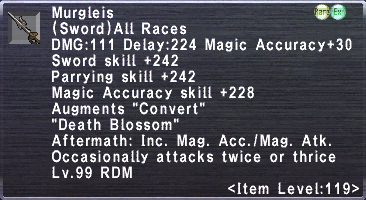 Statistics
Damage Per Second: 29.73
TP Per Hit: 60
Augments "Convert"
Grants additional MP equal to 50% of maximum HP.
Other Uses
How to Obtain
Cannot be auctioned, traded, or bazaared, but can be delivered to a character on the same account.


Cannot be obtained as a random reward from the Gobbie Mystery Box Special Dial and similar sources.
Quest
Historical Background
Murgleys, or Murgleis (possibly "Death brand") is the sword of Ganelon, a traitorous French (Frankish) count and nemesis to the titular hero of the epic La chanson de Roland (The Song of Roland).[1]
References