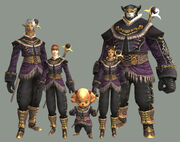 A set of armor crafted from incredibly rare and expensive items, as well as a total of 50 Imperial Gold Pieces. The Morrigan set is wearable by Black Mages, Red Mages, and Blue Mages only, and provides large enhancements to INT, MND, MP, and also provides large Accuracy and Magic Accuracy bonuses.
Number of Pieces: 5
Can be stored in Moogle Storage Slip 01
Level
Armor Piece
75
Morrigan's Coronal


[Head] All Races
DEF: 15 MP +20 STR +4 INT +4 MND +4
Accuracy +5 Magic Accuracy +5
Set:
Enhances "Magic Atk. Bonus" effect
Lv. 75 BLM / RDM / BLU


75
Morrigan's Robe


[Body] All Races
DEF: 38 STR +8 INT +8 MND +8
Accuracy +5 Attack +5
"Magic Atk. Bonus" +5
Adds "Refresh" effect
Set:
Enhances "Magic Atk. Bonus" effect
Lv. 75 BLM / RDM / BLU


75
Morrigan's Cuffs


[Hands] All Races
DEF: 21 MP +25 Accuracy +5
Attack +5 Magic Accuracy +5
"Magic Atk. Bonus" +5
Set:
Enhances "Magic Atk. Bonus" effect
Lv. 75 BLM / RDM / BLU


75
Morrigan's Slops


[Legs] All Races
DEF: 27 MP +25 STR +3 INT +10 MND +10
Enmity -2
Set:
Enhances "Magic Atk. Bonus" effect
Lv. 75 BLM / RDM / BLU


75
Morrigan's Pigaches


[Feet] All Races
DEF: 18 MP +20 STR +3 INT +3 MND +10
Enmity -2
Set:
Enhances "Magic Atk. Bonus" effect
Lv. 75 BLM / RDM / BLU


Set Summary
Acquisition
Morrigan's Robe Set
Historical Background
Morrigan (more appropriately spelled Morrígan) is Irish for "great queen", "phantom queen", or "terror". She was a goddess of war and death. She would frequently take the form of a carrion crow. Warriors considered it vital to gain her favor before battle since to have her in opposition would be considered certain doom in battle. However, she also had an association with cattle, which may indicate some role in the earth and fertility. She is sometimes considered to be a part (the dominant part) of a triple goddess with Macha and Nemain or Badb. She fought against the Fir Bolg and the Fomorians.

While the two other goddesses in her trinity were made into enemies in the BCNM Birds of a Feather (Macha and Neman), Morrigan was the only goddess in the group not to receive a monstrous rendition.

Note that she is not linked in any way to Morgan Le Fay from Arthurian folklore. The etymologies do not match up, with Morgan Le Fay deriving from the Welsh name Morgan, meaning "sea" or "associated with the sea" while Morrigan is an Irish word meaning "great" or "terror".
Past Final Fantasy Appearances: Some of the Black Mages of Final Fantasy IX wear a robe that looks very similar to this robe.
Community content is available under
CC-BY-SA
unless otherwise noted.