Arcane: League of Legends - The Loop
Play Sound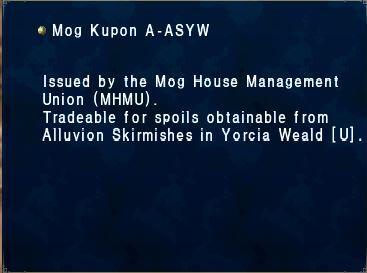 Mog Kupon A-ASYW
Description:
Issued by the Mog House Management
Union (MHMU).
Tradeable for spoils obtainable from Alluvion Skirmishes in Yorcia Weald
[U].
Notes:
Speaking to a
Dealer Moogle
with this in your possession will enable you to choose one of the spoils listed on the
Kupon A-ASYW
page.
Only one Mog Kupon Temporary Key Item of each type can be held at a time. If you already possess this, you will be unable to trade further
Kupon A-ASYWs
to the
Dealer Moogle
.