Job:
Family: Tauri
Crystal: Dark
Weak to: Light

Notorious Monster
Zone

Level

Drops

Steal

Spawns

Notes

~47

1

A, L, T(S)

A = Aggressive; NA = Non-Aggresive; L = Links; S = Detects by Sight; H = Detects by Sound;
HP = Detects Low HP; M = Detects Magic; Sc = Follows by Scent; T(S) = True-sight; T(H) = True-hearing
JA = Detects job abilities; WS = Detects weaponskills; Z(D) = Asleep in Daytime; Z(N) = Asleep at Nighttime; A(R) = Aggressive to Reive participants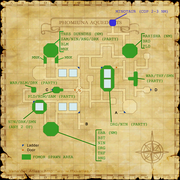 Notes
Will Draw In everyone in the party/alliance from anywhere within the area.
The Minotaur has less of a time delay when using Mortal Ray then normal Tauri. (Uses it about 2 seconds faster.)
Mortal Ray can be avoided like most of Gaze Attacks, by looking away from the monster.

Can be slept by COR or BRD.
Has an unusually long range of sight and thus, will attack a low level enough character all the way at the corner leading to the room.