Job:
Family: Tauri
Crystal: Dark
Weak against: Light

Notorious Monster
Zone

Level

Drops

Steal

Spawns

Notes

~47

1

A, L, T(S)

A = Aggressive; NA = Non-Aggresive; L = Links; S = Detects by Sight; H = Detects by Sound;
HP = Detects Low HP; M = Detects Magic; Sc = Follows by Scent; T(S) = True-sight; T(H) = True-hearing
JA = Detects job abilities; WS = Detects weaponskills; Z(D) = Asleep in Daytime; Z(N) = Asleep at Nighttime; A(R) = Aggressive to Reive participants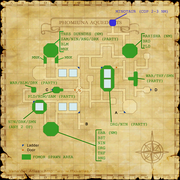 Notes
Required target for Distant Beliefs.
Spawns at (J-2), on the second map approximately 10 minutes after death.
Special Attacks: Draw In, Mortal Ray, Mow, Back Swish.
Uses Draw In on everyone in the party/alliance from anywhere within the area.

Attack and run out of his map square to force a Draw In if needed.

The Minotaur shortend ready time when using Mortal Ray than normal Tauri (uses it about 2 seconds faster).
Vulnerable to -based sleep.
Has an unusually long range of sight and thus, will attack a low level enough character all the way at the corner leading to the room.
No aggro at level 58+.
Community content is available under
CC-BY-SA
unless otherwise noted.