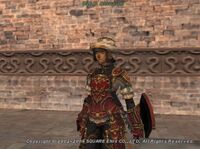 Mihli Aliapoh
Race:
Job:
Affiliation:
Occupation:
Springserpent General
Notes
Mihili Aliapoh is one of five Serpent Generals defending Al Zahbi during Besieged. She holds the title of Waterserpent General and is a Mithra White Mage.
She must be in Al Zahbi in order to complete the quest Soothing Waters. If she is held prisoner, the quest cannot be completed until she is rescued.
Involved in Quests