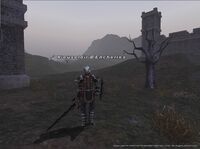 Mieuseloir_B_Enchelles
Race:
Affiliation:
Occupation:
Commands the Crimson Wolf Regiment of San d'Oria (S)
Notes
Appears during offensive Campaign Battles as the leader of the Crimson Wolf Esquires.
When spoken to will encouragingly say: "You have the look of a fine warrior. It is a pity you are not one of my Crimson Wolves."
Mieuseloir appears to be a Dark Knight/Paladin
Uses Unique Weapon skill called Cruel Riposte, which drains an enormous amount of HP from his enemy.
Battle Cry: There is no escape!... Save death!
Mieuseloir appears several times in the Vana'diel Tribune in the stories of Joseaneaut's Mission. He is referred to as the leader of the "Red Wolves" in A Heroic Gigas, which undoubtedly is the same as the Crimson Wolves of the Crystal War.
Community content is available under
CC-BY-SA
unless otherwise noted.