Job: Monk
Family: Orc
Crystal: Fire
Weak to: Water

Notorious Monster
Zone

Level

Drops

Steal

Spawns

Notes

35-40

1

A, S, L, Sc

A = Aggressive; NA = Non-Aggresive; L = Links; S = Detects by Sight; H = Detects by Sound;
HP = Detects Low HP; M = Detects Magic; Sc = Follows by Scent; T(S) = True-sight; T(H) = True-hearing
JA = Detects job abilities; WS = Detects weaponskills; Z(D) = Asleep in Daytime; Z(N) = Asleep at Nighttime; A(R) = Aggressive to Reive participants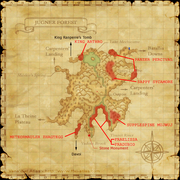 Notes:
Meteormauler Zhagtegg spawns 21 hours after its last ToD. Has about a 10 minute pop window starting at the 21 hour mark.
Spawns just north of the Davoi zone line.
Uses Hundred Fists at about 50% health.
Has an innate damage reduction trait, about 50%.
This NM may spawn in party with two other orcs. This is not always the case however. However, it can link with other surrounding orcs.
Soloable by most jobs around level 60. (see testimonials)
Community content is available under
CC-BY-SA
unless otherwise noted.