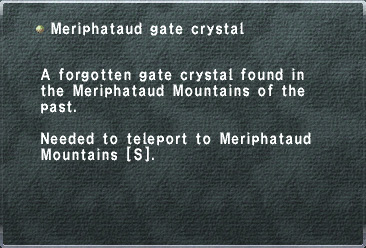 Meriphataud Gate Crystal
Description:
A forgotten gate crystal found in
the Meriphataud Mountains of the
past.
Needed to teleport to
Meriphataud
Mountains (S)
.
Obtained:
Check the Telepoint in the
Meriphataud Mountains (S)
at (I-8). (The teleport is located directly under Drogaroga's Spine, slightly west of center at (I-8))
Community content is available under
CC-BY-SA
unless otherwise noted.