Family: Bugards
Crystal: Fire
Weak to: Ice

Notorious Monster
Zone

Level

Drops

Steal

Spawns

Notes

55-60

1

A, H
~8,600 HP


A = Aggressive; NA = Non-Aggresive; L = Links; S = Detects by Sight; H = Detects by Sound;
HP = Detects Low HP; M = Detects Magic; Sc = Follows by Scent; T(S) = True-sight; T(H) = True-hearing
JA = Detects job abilities; WS = Detects weaponskills; Z(D) = Asleep in Daytime; Z(N) = Asleep at Nighttime; A(R) = Aggressive to Reive participants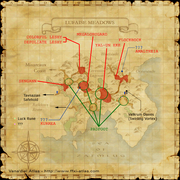 Notes:
Lottery spawn from the Gigantobugard in the area. Will pop within 1 to 3 hours after it's last time of death in the valley around (G-8) / (H-8).
Usually will not spawn unless all 4 bugards have spawned inside the valley. However, Megalobugard CAN spawn in the 4th Bugard position on the lower platform. You must kill the bugards outside of valley to the north until fourth bugard or Megalobugard pops inside valley.
Soloable at level 70+ (see testimonials)
Special Attacks: Auto Regen
Video
Community content is available under
CC-BY-SA
unless otherwise noted.