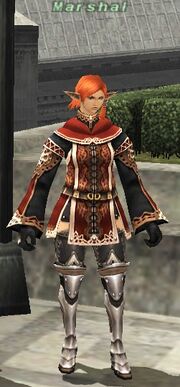 Type: NPC
Location: 1st: Upper Jeuno (I-9); 2nd: Ru'Lude Gardens (I-9)
Ballista-Location: Jugner Forest (H-8), Meriphataud Mountains (G-7), Pashhow Marshlands (I-7)
Description:
1st - Brenner Marshal: The Marshall co-ordinates LS Liga Brenner matches in Abdhaljs Isle-Purgonorgo. She and Afdeen (in front of her) explain Brenner. They are the two NPCs you need to contact in order to set up a time to enter Brenner, etc. You can also get a Brenner Band.
2nd - Ballista Marshal: This NPC can exchange earned Ballista Points for items using in the next match of Ballista. She also informs you about the "actual" Ballista Ranking, your Ballista points and earned Ballista titles.
Community content is available under
CC-BY-SA
unless otherwise noted.