Statistics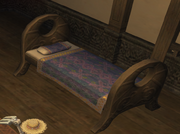 Blue mariner's bed
Furnishing:
A modest yet comfortable bed favored
by the salty sea dogs who make
Mhaura their port of call.
<

STG: 2>
Other Uses
Synthesis Recipes
Synergy (Apprentice)

Yield: Green Mariner's Bed
Skills: Woodworking(Apprentice), Clothcraft(Initiate), Alchemy(Anateur)

Used in Recipes
Desynthesis Recipe
None
Obtained From Desynthesis
How to Obtain
Only obtainable through synthesis.
Community content is available under
CC-BY-SA
unless otherwise noted.