watch 02:25
The Loop (Games)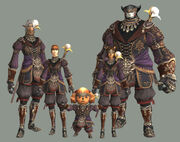 A set of armor crafted from various incredibly rare and expensive items, as well as a total of 50 Imperial Gold Pieces. The Marduk Jubbah set is wearable by White Mages, Bards, and Summoners only, and provides large enhancements to MND, CHR, MP, and also provides large Summoning Magic Skill and all White Mage and Bard magic skill bonuses with the exception of Enhancing Magic.

Number of Pieces: 5
Cost to store: Storing this armor is not currently possible.

Set Summary
Acquisition
Marduk Jubbah Set
Historical Background
In Babylonian mythology, Marduk was the leader of the Anunnaki (pantheon of Babylonian gods) and patron deity of the city of Babylon. Originally a minor deity, his role rose in prominence when the city of Babylon rose into prominance. Marduk inherited many of the abilities of Ea & Enlil when Babylon became a major power, namely rulership over humanity. The creation accounts were revised to reflect this and Marduk became the slayer of Tiamat in the Enuma Elish, killing her and creating the heavens and the earth from her corpse after she led a revolt against the gods with her consort Apsu. As a result of this feat, he was given the position of chief of the gods despite being a young god. Marduk was associated with the planet Jupiter (called Nibiru by the Babylonians [not to be confused with the Nibiru of fringe theories]).
Community content is available under
CC-BY-SA
unless otherwise noted.