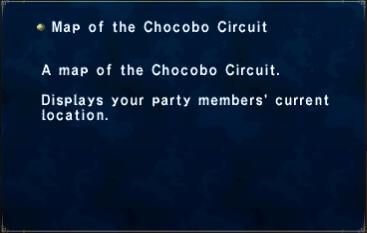 Map of the Chocobo Circuit
Description:
A map of the Chocobo Circuit. Displays your party members' current location.
Notes:
Talk to any NPC with a Red Beret and choose to go to General Information. From here there are two spots to get the map. The first is a ??? on the south edge of the Information Counter, where Khatri and Luca stand. The second, are the two halls south of the counter, which will take you to the same room, located at (H-10). In the middle of the counter, there is a ???. This also contains a map.
Community content is available under
CC-BY-SA
unless otherwise noted.