Job: Warrior
Family: Doll
Crystal: Ice
Weak to: Lightning

Notorious Monster
Zone
Level
Drops
Steal
Spawns
Notes
Temple of Uggalepih
60
1
A, M
~10,000 HP


A = Aggressive; NA = Non-Aggresive; L = Links; S = Detects by Sight; H = Detects by Sound;
HP = Detects Low HP; M = Detects Magic; Sc = Follows by Scent; T(S) = True-sight; T(H) = True-hearing
JA = Detects job abilities; WS = Detects weaponskills; Z(D) = Asleep in Daytime; Z(N) = Asleep at Nighttime; A(R) = Aggressive to Reive participants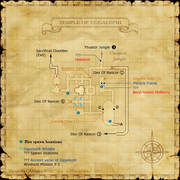 Notes:
Timed Spawn around (I-10) - (J-10) on the second map, approximately every 2 hours. The Manipulator will patrol the staircases in a counterclockwise direction.
Resistant to Sleep.
Has been noted at below or around 25% health to resort to using a high powered Typhoon and a few seconds later using Kartstrahl in a attempt to kill you or inflict serious damage.
Can be defeated by a party of 4 level 70 players; soloable by most jobs at level 75, with some difficulty or time.
Stealing the Doll Gizmo from Manipulator reduces its attack speed and may weaken its TP moves.
NOTE: If you can avoid being hit and/or Heal yourself i dont see how this NM is any problem for any job at 85.

Soloed as DRG/RDM since wyvern healed me his hits didnt matter when they landed and put me @ 50% hp.
Video
See the Video page.
Community content is available under
CC-BY-SA
unless otherwise noted.