No Man's Sky Update - The Loop
Play Sound
Job: Thief
Family: Rabbit
Crystal:
Weak to: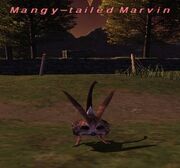 Notorious Monster

Zone
Level
Drops
Steal
Spawns
Notes
1
A, T(S), L
~30,000 HP


A = Aggressive; NA = Non-Aggresive; L = Links; S = Detects by Sight; H = Detects by Sound;
HP = Detects Low HP; M = Detects Magic; Sc = Follows by Scent; T(S) = True-sight; T(H) = True-hearing
JA = Detects job abilities; WS = Detects weaponskills; Z(D) = Asleep in Daytime; Z(N) = Asleep at Nighttime; A(R) = Aggressive to Reive participants
Notes:
Spawns roughly every 10-15 minutes at D-6/D-7 Among the Plateau Hare

Whirl Claws can take 1-3 shadows and can hit for 700+.
Foot Kick can critical for upwards of 1000+ damage.
Melee attacks hit for 200-400+.
Uses Wild Carrot with a normal delay and can heal upwards of 4000 HP.

It is advisable to kite Marvin around a stone fence for about 30 seconds after he uses Wild Carrot.
Very Easy to stun, if your stunner is paying attention.

Other rabbits will link with him, and there are plenty in the area.
Seems to have Rapid Enmity Decay.
(see testimonials)