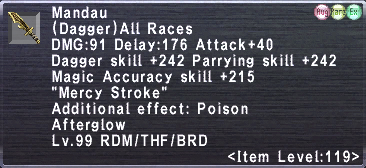 Statistics
Damage Per Second: 31.02
TP Per Hit: 49
Additional effect: Poison
The Poison effect does not overwrite itself.
Mercy Stroke damage +40%
Attacks will occasionally do 3 times normal damage about 13% of the time on the first swing only.
Other Uses
How to Obtain
Oboro's Relic Reforging Service
Players with

Scintillating Rhapsody may reforge Mandau (99-2) by trading the following to Oboro in Port Jeuno (E-6):
Upgraded from Mandau (119) via the Dagger Trials
Community content is available under
CC-BY-SA
unless otherwise noted.