| | |
| --- | --- |
| Making a Name for Oneself | |
"Lower than the Lowest Tunnel Worm"--this was a title that was given to me for refusing a particular quest.

We adventurers meet many people on our journeys who, in return for our services, bestow titles upon us. Said titles can range from meritorious badges of honor to downright insulting nicknames.

There seem to be as many titles in existence as there are stars in the sky. Thus, I decided to ask adventurers in town about some of their personal favorites.

"Tarutaru Murder Suspect," because it's different. I like the titles that the Dr. Shantotto quests give you in general; they're very odd! - Morula

I like ones that sound important like "Centurion," because they garner respect and admiration from my friends. - Rodney

I like all the SOB (Star Onion Brigade) titles. I think they're so funny! -Jcs

I like "SOB Super Hero" myself. It just sounds fun! "I think people like certain titles that show they completed a hard quest. "Maat Masher" is a good example. - Kardus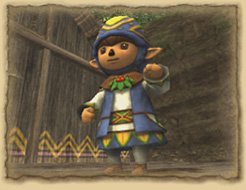 Many of the more lighthearted adventurers seemed to have an affinity for the titles given by the rascally children of the Star Onion Brigade. In general, humorous titles such as "Vampire Hunter D-Minus" and "Total Loser" appeared to top the lists of many.

A thief named Aphasia who I met at the airship docks told me that she was working towards the title of "The Vivisector." Her dagger danced gracefully as she spoke of her dreams, and I could not help but wish that her goal would be met soon.

Another adventurer by the name of Mimico told me her favorite title was "Pentacide Perpetrator," as it signified a hard-earned victory for her and her comrades. I imagined that such an important title would be guarded carefully, but apparently this was not the case. Mimico said she often lost the title in moments of aloofness.

"When I'm hunting tigers to support my adventuring expenses, I immediately go back to being a 'Fang Finder,'" she said with a chuckle.

Most all adventurers I talked to spoke fervently of titles that they themselves had gained. But one adventurer named Jak had a different perspective.

For Jak, checking the titles of other adventurers was more interesting than ones she had gained herself. She said that when she discovered adventurers with rare titles, she dreamt of lands she had not yet visited, pondered monsters she had not yet faced, and at times was dumbfounded by the surprising growth of new adventurers.

As I listened to Jak speak, I came to a certain realization.

Whether they be a symbol of victory, a source of immense pride, or a reminder of an endearing memory, the titles bestowed upon us adventurers are our history, and our legacy--even if it is "Lower than the Lowest Tunnel Worm."

I headed home as I reminisced about the titles that I myself had been given. Once there, I asked my husband what title he had most recently acquired.

When he told me it was "Gullible's Travels," I suddenly felt my own purse strings tighten.
Taken from: Vana'diel Tribune Issue No. 27

Community content is available under
CC-BY-SA
unless otherwise noted.