Great non-melee jobs Armor Set. This set is the High Quality version of the Errant Set, which adds monstrous bonuses to all mages primary stats: MND, INT, CHR, and Enmity - , and add a few MP too. However, there's a downside, melee primary stats : STR, DEX, VIT, AGI are dramatically cut down and some HP are lost.
See Errant Houppelande Set for the normal quality version.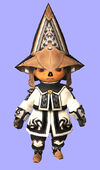 Number of Pieces: 5 (+back)

Cost to store: Cannot be stored!

Set Summary
Community content is available under
CC-BY-SA
unless otherwise noted.