Statistics
Damage Per Second: 0.21
TP Per Hit: 76
Costume
Transforms all party members within area of effect into a random Mandragora model.
All Mandragora costumes have varing precentages of increased movement speed.
Costume lost upon changing zones.
This club makes Mandragora noises and emits animated musical notes as a particle effect when it hits an enemy.
Other Uses
How to Obtain
Physical Goods Bonus
The code to obtain this item is included with the Region 2 DVD "FINAL FANTASY XI ヴァナコン Anniversary 11.11.11/オーケストラコンサートDVD". Players in areas outside of Japan can import the DVD and use the code as reward codes are universal. Codes were redeemable until 12/31/2012.
Items can be picked up with the [Festive Moogle] after redeaming the code in the Square Enix Account Management website.
Lost or discarded items cannot be replaced, so please be careful.
10th Anniversary Concert
Given to attendees of the 10th Anniversary Concert at Zellerbach Hall in California in September of 2012.
Demonstration Video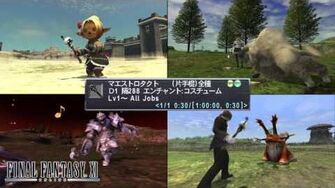 Community content is available under
CC-BY-SA
unless otherwise noted.