New Pokemon Games - The Loop
Play Sound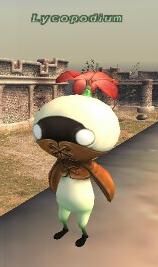 Lycopodium
Notes
Talking to Lycopodium triggers a short cutscene.
The lycopodium is entranced by a sparkling light...
Your memory is engraved with an image of your surroundings and the fragrance of flowers...
After checking the light in the past and then the present, the following messages appear:
"The sparkling light seems vaguely familiar to you..."
"You sense that a certain trigger may awaken the memories slumbering in your mind."
(Before having spoken with the Lycopodium, checking these sparkling light targets causes the following message to appear:
"The ground is sparkling with a strange light.")
After trading the flower to the Sparkling Light, in the present, the following message appears:
"The fragrance of the flower sends your senses reeling back to the world of the past..."
NOTE: You must talk to the Lycopodium (NPC) in each area in order to use the corresponding sparkling point.
After talking to the NPC in the past, you may trade a flower to the Sparkling Light in the same location in the present area. This will transport you to another location in the same area:
You will lose the flower upon trading to the lights.
Flowers that work: Amaryllis, Asphodel, Carnation, Casablanca, Cattleya, Dahlia, Lilac, Marguerite, Rain Lily, Snow Lily, Sweet William, Phalaenopsis
Flowers that won't work: Lycopodium Flower, Chamomile, Red Rose, Wijnruit, Papaka Grass, Flax Flower
Locations