Vana'diel Profiles
Lungo-Nango, Valiant Conqueror
342-376

An accomplished Warlock Warlord during the Age of Magic, Lungo-Nango discovered his talent as a beastmaster and became a Combat Caster after a fallout with Windurst's School of Magic. Eventually he was promoted to the position of Master Caster and Magistrate over the Norvallen region.

After accepting his post, Lungo petitioned to the Parliament of Patriarchs for the subjugation of the Elvaan tribes who had laid waste to the area. He then built an army to deal with insurgents and achieved countless victories, paving an unconventional path to the title of Warlock Warlord.

Warlord, Lungo swept across the Quon continent with decisive force, subduing its varied inhabitants. He was immediately declared a hero and called back to the capital for a victory parade.

Following the celebration, however, the parliament accused Lungo of insubordination and removed him from his post. His armies dissolved and his status gone, Lungo-Nango disappeared from the public eye in a state of despondency.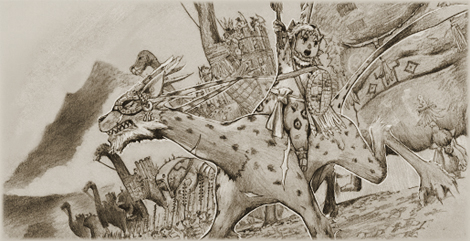 Taken from: Vana'diel Tribune II Issue No. 09

Community content is available under
CC-BY-SA
unless otherwise noted.