Zone

Level

Drops

Steal

Spawns

Notes

27-28

1

A, S
??? HP


A = Aggressive; NA = Non-Aggresive; L = Links; S = Detects by Sight; H = Detects by Sound;
HP = Detects Low HP; M = Detects Magic; Sc = Follows by Scent; T(S) = True-sight; T(H) = True-hearing
JA = Detects job abilities; WS = Detects weaponskills; Z(D) = Asleep in Daytime; Z(N) = Asleep at Nighttime; A(R) = Aggressive to Reive participants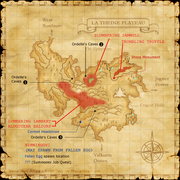 Notes:
Respawn time from ToD is approximately 2 hours.
Placeholders take 20 minutes to spawn after Lumbering Lambert is defeated.

Can be soloed by most characters level 45 (see testimonials).
Solo'd by skilled 42 MNK/WAR, but got down to red, had to use Chakra.
Just wanted to note that the horn is not 100%, although the drop rate is high, and it drops more often then not
Community content is available under
CC-BY-SA
unless otherwise noted.