Raise a Floppa - The Loop
Play Sound
Job:
Family: Ram
Crystal: Earth
Weak to:

Notorious Monster
Zone

Level

Drops

Steal

Spawns

Notes

27-28

1

A, S
2,000~2,200 HP


A = Aggressive; NA = Non-Aggresive; L = Links; S = Detects by Sight; H = Detects by Sound;
HP = Detects Low HP; M = Detects Magic; Sc = Follows by Scent; T(S) = True-sight; T(H) = True-hearing
JA = Detects job abilities; WS = Detects weaponskills; Z(D) = Asleep in Daytime; Z(N) = Asleep at Nighttime; A(R) = Aggressive to Reive participants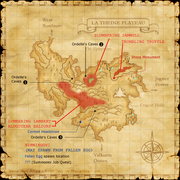 Notes:
There are two Battering Rams in the area. If you split the pop area into two zones, east and west; the true placeholder always pops in the east. Both Rams have a 10 minute respawn timer.

Minimum respawn time is 1 Hour from last Time of Death.
Can take up to 12 hours to spawn.
soloed by most characters level 45 (see testimonials).

Placeholder ID is 134 and 087.
Evolith