Zone
Level
Drops
Steal
Spawns
Notes
Batallia Downs
55
1
A, S, Sc
~25,000 HP
??? MP

A = Aggressive; NA = Non-Aggresive; L = Links; S = Detects by Sight; H = Detects by Sound;
HP = Detects Low HP; M = Detects Magic; Sc = Follows by Scent; T(S) = True-sight; T(H) = True-hearing
JA = Detects job abilities; WS = Detects weaponskills; Z(D) = Asleep in Daytime; Z(N) = Asleep at Nighttime; A(R) = Aggressive to Reive participants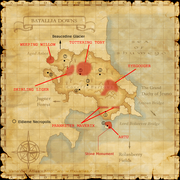 Notes
Spawns after the Weeping Willow is defeated. Will despawn if left unclaimed for 10 minutes.
If Lumber Jack despawns after being left unclaimed for 10 minutes, Weeping Willow will repop back around 30 mins after Lumber Jack despawned.

Stonega IV may deal as much as 600-700 damage when unresisted.

Has an additional effect of Stun on attacks, but this does not trigger on every attack.
Attacks faster than normal beetles.
Very susceptible to Paralyze.
Susceptible to Gravity but will start building immunity.
Can be defeated by: 6 characters at level 60, some combinations of 2 level 75 characters, solo by some jobs at level 75 and Summoner at level 70. (see testimonials)
Drops around 20,000 gil. Up to 32,766 with Gilfinder.
The number of times he can be mugged seems to vary per pop. Can mug 1100-7500 gil total.
Video