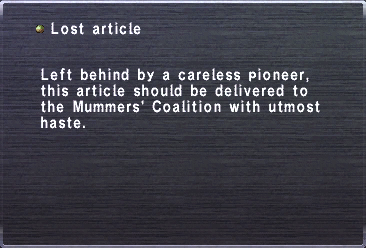 Lost article
Description:
Left behind by a careless pioneer, this article should be delivered to the Mummers' Coalition with utmost haste.
Obtained:
During a Mummers' Coalition Recover: assignment, click on any Lost Article in the zone corresponding to the assignment.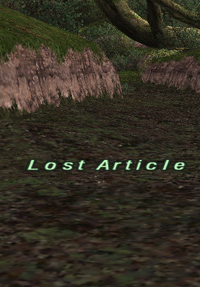 Used in the Mummers' Coalition assignments Recover: Ceizak Battlegrounds, Recover: Foret de Hennetiel, Recover: Morimar Basalt Fields, Recover: Marjami Ravine, Recover: Yorcia Weald and Recover: Kamihr Drifts.
The Lost Article will immediately respawn following procurement. It is not visible in Wide Scan.
Locations
Community content is available under
CC-BY-SA
unless otherwise noted.