This armor is available to the Black Mage and Scholar jobs in exchange for Battle Trophies obtained from Notorious Monsters from Heroes of Abyssea areas. When purchased from a Dominion Tactician, these items will always have up to 3 random augments applied to them. These augments will not be known until purchased by the player.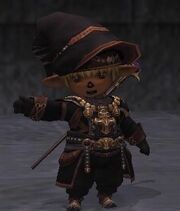 Number of Pieces: 5
Cost to store: Cannot be stored
Notes
All equipment is Level 87 and Exclusive.
Set Bonus Summary
Defense +152
INT +14
Up to three augments are applied to each piece of armor. See the individual armor pages for possible augments.
Community content is available under
CC-BY-SA
unless otherwise noted.