Statistics
Damage Per Second: 15.11
TP Per Hit: 144
Augments Absorb Spells IV
+40% potency to absorb spells.[1]
Hidden Effect
Other Uses
How to Obtain
Cannot be auctioned, traded, bazaared, or delivered.


Cannot be obtained as a random reward from the Gobbie Mystery Box Special Dial and similar sources.
Upgrade from Liberator (85) via the Scythe Trials:
Historical Information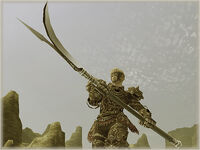 Unorthodox by any assessment, this bifurcate scythe bears a name representative of its significant role in history. Balrahn's heroic efforts to quell the rebellions in the south are now a topic of common knowledge. It was on those campaigns that he directly encountered the leader of the insurgency, known to the ages simply as Koja, to whom this scythe originally belonged.
References
See Also