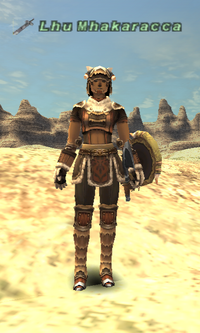 Lhu Mhakracca
Race:
Affiliation:
Occupation:
Mercenary Captain
Notes
Appears during Campaign Battles as the leader of the Python Mercenaries.
Taking part in Campaign Battles, Lhu Mhakracca will frequently be found in differing locations. While not out by Campaign Fortifications, she will be found in Windurst Waters (S).
Owns a Guttler. Unlike most relic weapons that seem to keep their intelligence a secret, Lhu's Guttler speaks publicly, much to her annoyance.
Talk: (Guttler! I told you to keep qui--) Ahahahah... Don't mind me, I was just...uh...keeping myself company! (Shhh! If you open your mouth one more ti--) Ahahaha... Uh, were you still there?
Guttler's battle cry: Guttler thirsty! Guttler want blood! More blood! (It says this right before Lhu uses Onslaught)
Involved in Quests
Community content is available under
CC-BY-SA
unless otherwise noted.