Job:
Family: Sapling
Crystal: Earth
Weak to: Fire, Dark
Notorious Monster
Zone

Level

Drops

Steal

Spawns

Notes

79-81

1

L, H

A = Aggressive; NA = Non-Aggresive; L = Links; S = Detects by Sight; H = Detects by Sound;
HP = Detects Low HP; M = Detects Magic; Sc = Follows by Scent; T(S) = True-sight; T(H) = True-hearing
JA = Detects job abilities; WS = Detects weaponskills; Z(D) = Asleep in Daytime; Z(N) = Asleep at Nighttime; A(R) = Aggressive to Reive participants
Notes: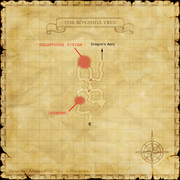 Lottery Spawn from the Boyahda Saplings around G-9 near Dragon's Aery.
Has a powerful Auto Regen during day-time.

Ends at 18:00. Assumed to start at 6:00.

If you wipe to this NM it will despawn.
Respawn time 1 hour, with "lottery" spawn, meaning it CAN spawn after 1hr after PH killed, but might not randomly.
Historical Background
In Slavic folklore, Leshonki are the children of Leshy. See Leshy for further info.
Community content is available under
CC-BY-SA
unless otherwise noted.