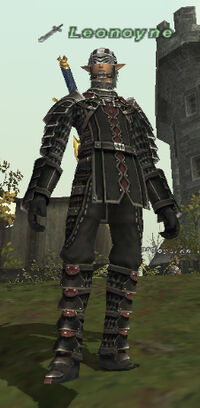 Leonoyne
Notes
Commands the Savage Hound Condotties, an all female unit that appear to be Dark Knights.
Leonoyne is among the few that may be dispatched to Beaucedine Glacier (S) and Xarcabard (S) once San d'Oria regains most territory in their cordon.
Can use Invincible.
Wields the Bahadur, mainly uses the weaponskills Frostbite, Freezebite and Spinning Slash, as well as a unique cone AoE weapon skill, Spine Chiller, that will inflict damage and Terror all mobs in front of him when he is below 50% health.
Casts Cure IV, Protect IV, Shell IV (Only on himself), Blizzaga III, Blizzard IV, Ice Spikes and Frost.
Melee attacks have additional effect: ice damage on every hit.
Can intimidate undead.
When spoken to normally: "Hah hah hah! The ringing of steel upon steel! The dripping stench of the battlefield! What could be better than war? The nobles can have their balls; I'll do my dance on the front lines!"
Battle Cry: "Gwahahaha! Let me cool you off a little before I send you to hell!"
May be considered a Paladin/Black Mage, as he uses a Great Sword and high tier Black Magic, but despite his appearance he has no uniquely Dark Knight skills.
His name, personality and background (holding off a huge beastman army at the Battle of Jugner with 300 men) may be a reference to Leonidas of the film 300 and the Battle of Thermopylae.
Community content is available under
CC-BY-SA
unless otherwise noted.