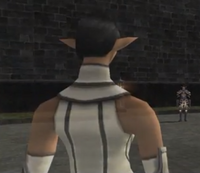 Leaute I d'Oraguille
Race:
Affiliation:
Occupation:
Queen of San d'Oria
Notes
Leaute I d'Oraguille was the Queen of San d'Oria, wife of King Destin and mother of (in order): Trion, Pieuje and Claidie. Her madien name was Leaute I Tavnazia, Princess of Tavnazia. First born of the late Marquis Altedour I Tavnazia, her younger brother went missing when Tavnazia was destroyed during the Crystal War. She died 15 years ago in 869 C.E. under suspicious curcomstances. She was at least 38 years old, as she had already had her Coming of Age (held at age 20) by the time she married.
Involved in Missions
Involved in Quests
Community content is available under
CC-BY-SA
unless otherwise noted.