Statistics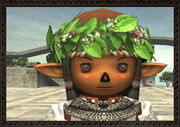 Note
As of May 2011 Update, most teleport gears' recast became 1 hour. Please post up new Screenshot if you have it.

Enchantment: "Teleport"
Transports you to Ru'Lude Gardens in front of the Ballista npc.
Other Uses
Synthesis Recipes
None
Used in Recipes
Desynthesis Recipes
None
Obtained from Desynthesis
How to Obtain
Special Event
Only 20 players across all servers have this item - the 10 Japanese winners, and the 10 North American winners, all of which reside on the Siren server.
Community content is available under
CC-BY-SA
unless otherwise noted.