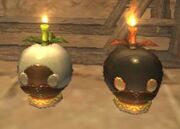 Furnishing:

A seasonal candleholder modeled after a korrigan. Said to ward away evil spirits.
<

STG: 1>
Can be held in storage by an Event Item Storer.
How to Obtain
Purchase all 3 of the new Pricket lanterns: Djinn Pricket (Bastok), Jack-o'-Pricket (San d'oria), and the Mandragora Pricket (Windurst). Place the Prickets in your Mog House via the /layout command, and wait until the Conquest tally. You will receive a Korrigan Pricket when you speak to your Moogle along with the following dialog:
"Moogle : Master!
"I have something to tell you, kupo!
"Moogle : Oh, Master! You won't believe what I found out on the doorstep this morning, kupo!
"Moogle : At once so glorious and so ghastly, and just for you!
"Think of it as a holiday gift from a humble moogle to his favorite (and only) master, kupo!"
Be sure you do not have any furnishing laid out that regularly gives you something after each Conquest tally, like the Beverage Barrel, as those may have precedence over your prickets! See the Furniture Quest page for more information.
Special Event